By: ledirlo

You may find just as many tutorials as you want on the web,the fact is that most of them will show you how to replicate an effect, etc....which is pretty useless, as long as many people dont know the basics of Photoshop. These tutorials will try to teach you how to use Pshop by yourself, not in order to make effects, but in order to edit photographs.

1: Before we start

Photoshop was a tool made by photographers, for photographers, there fore you have to understand that you have to get some basic knowledge about RGB, and bitmap.

Every photograph has a bitmap format, which means it is composed of pixels; you can edit any of these pixels properties. RGB is the colour mode that will most often use: Red, Green, Blue; these colours work in an additive mode, which means that any other colour will result in the addition of one the fundamental Red, green, and Blue.This will be usefull when you get to work on layer blending modes.Filters were basically the same ones as you found on cameras, so try to think of them in a photographic, non illustrative way.

2: Preparing a document

Whether you want to edit a picture or create a new document, you'll have to do one or two things in order to ease and secure your workflow:

a:increase the resolution: you'll have to work on details, so just go to "edit/image size" and enter 300 dpi instead of 72, or do the same operation by right clicking on the pic's menu: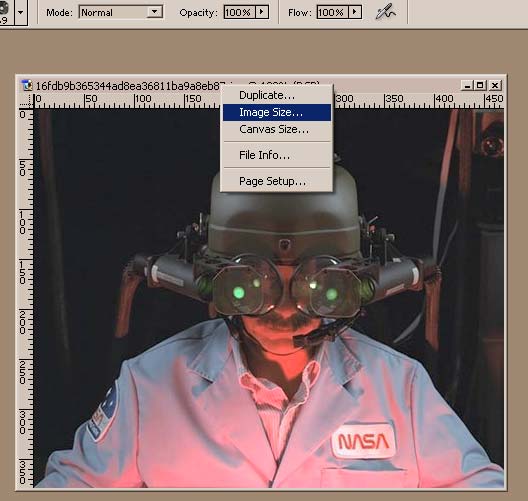 b:unlock the background layer, by simply double clicking on it and hitting enter, so you can edit it.
c:duplicate this layer so you can alter it and restore it if needed.
d:hide the lowest layer so you actually see how you alter the layer you're editing.
3: Separating elements
You may want to seperate the differents elements of the picture to get them on different layers.It is useless if you plan to use only a small part of it, but in case you don't know what to do with your pic, just separate the elements : it will help you get ideas as you you can try to put them in different settings, etc...
4: Get to work
Whatever you'll want to do, you have two options that may help you secure your document:
a: duplicate every critical layer before you alter it
b: take snapshots of its history before every critical operation
These tips may sound a bit boring, but these are the ones you'll want to use when you have to work on a document for hours, or after you have experienced the disappointment of not being able to undo.