Hi!

Long time no see!

No, I'm not asking you to vote for my new chop... no new chop, hope I can play again one day!
I'm asking you to vote in a contest my wife is participating in... it's about her movie project, Creation & Sacrifice.
Last year, Kyoka already had budget for research/development for her movie.
Now she's waiting for other grants for the production of the movie.
She got already great producer and distributor attached to her project... making progress.
So this contest can be a little help, for visibility and equipment rentals etc for her project.
Just need to click this little button on the site page...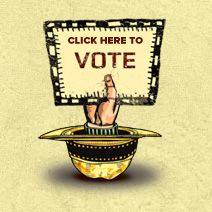 Then, you just need to register... it takes just a little 2 minutes... they don't ask too much questions and it's free.
Here's the link...
http://cubanhat.tv/CubanHat/web/en/pitch/show/creation-and-sacrifice
edit: the voting closes tomorrow at noon, eastern time.
Thanks!
Hope to participate here soon!

Claf