Wed Dec 03, 2008 4:20 pm Reply with quote
You can't catch me I'm the gingerbread man!!

My daughter's kindergarten class is having some fun with the gingerbread man for the month of December. They are collecting postcards from all over the world with the ginger bread man being spotted there (ie, Dear XYZ- We spotted the gingerbread man in Dallas Texas!)

As they get the postcards, they are putting pins on the world map.

It is all make believe, and we as parents are encouraged to have people send postcards or "photos" of the gingerbread man in exotic locations.

So, if anyone wants to have some fun with a kindergarten project... Could I beg for some photos of the gingerbread man in fun places around the world? I am going to put them all on a website for the class with a map of their locations and the route he took as he ran amok around the planet earth....

This would be a labor of love on your part as I have very little time to do it myself to the extent that I am envisioning in my mind...

Thanks so very much for your time and talents!!
_________________
I've been sockified by ReyRey!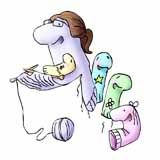 http://www.track4va.com